Area of Rescue
Paladin strives to provide their customers with the most up to date and code compliant equipment that is being utilized in today's markets. We have found that Area of Rescue Two-Way Communication Systems are becoming increasingly prominent in a variety of new construction and existing retrofits.
Two-Way Communication Systems are designed to provide a location for building occupants, who may be physically impaired and cannot evacuate without assistance, to be able to assemble by an exit or other dedicated location and await assistance or instructions by the first responders.
According to the Ohio Building Code Section 1007.8, Two-Way Communication Systems shall be provided in the elevator landing on each accessible floor that is one or more stories above or below the story of exit discharge. This requirement applies to all new construction buildings, regardless of use, occupancy, and the existence of a sprinkler system, as well as buildings receiving extensive renovations.
Paladin has been providing a variety of Two-Way Communication solutions in the Cleveland and Columbus, Ohio area for the last 27 years, and will gladly assist you with all of your Area of Rescue Two-Way Communication System needs.


Click for State of Ohio Requirements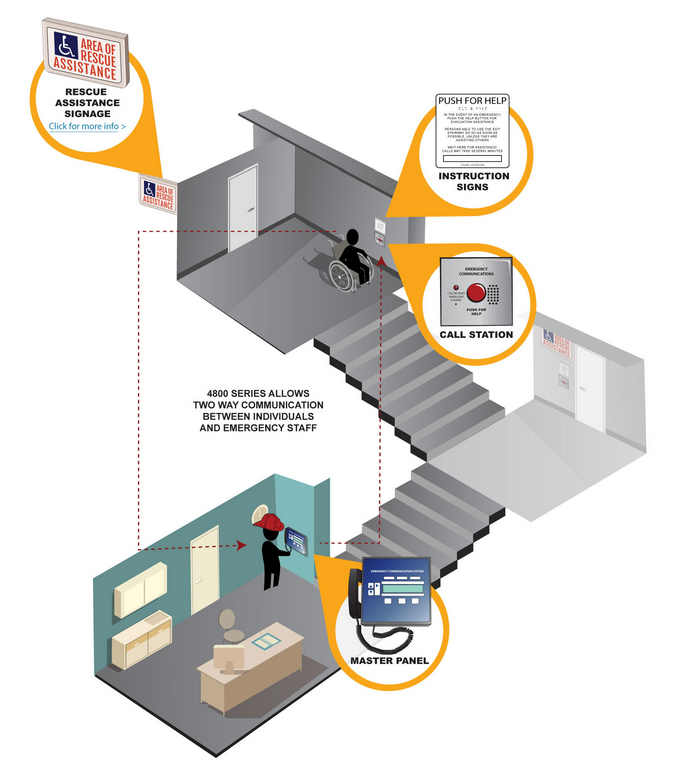 Cornell 4200 Series System

The 4200 Series can be sized from 4 to 20 zones in multiples of 4 zones. Only one Master Control Panel is required. The system communicates to the remote 911 center via text and pre-recorded voice messages only. Two-way voice communication to the call stations is available from the master panel but not from the 911 center.
This area of rescue system offers different designs for a range of applications and is designed to resist vandalism and to prevent false alarms. As a world leader in emergency call system technology, Cornell Communications is committed to developing reliable emergency communications systems and helping hospitals, nursing homes and public buildings maintain compliance with the Americans with Disabilities Act (ADA), which requires an Area of Refuge Assistance System in all newly constructed multi-story commercial buildings and public accommodations.
Cornell 4800 Series System

The 4800 Series Digital Emergency Communication system was developed to meet the requirements of the International Building Code (IBC) adopted by the US in 2015. It supports up to 255 call stations and 5 master panels; lending itself to larger buildings. It also provides for two way voice communication both in the building and with the 911 Center.