Paging & Mass Notification
Paladin can service all of your Paging and Mass Notification needs. Over the past 20 years, we have provided expert solutions for many different applications.
At schools and places of education, Paladin offers a variety of communications systems. Simple one-way audio paging can notify staff of any building-wide needs. More elaborate two-way systems allow communication between instructors and the office staff by using emergency call-in buttons in the classrooms.
We can also integrate paging systems with virtually any third-party system for applications such as Fire Department Dispatch, or building-wide emergency alert systems.
For multi-location warehouses of manufacturing facilities, Paladin can provide IP-based paging systems. These allow zoned paging to either a single facility/area, or to the entire complex to notify employees of emergency situations.
Call today to schedule a walk-through of your facility!

Bogen Nyquist E7000 IP Based Paging System
Educational Market
Bogen Nyquist IP Paging System Station Bridge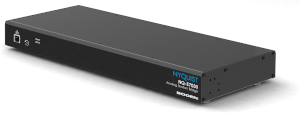 Bogen Nyquist IP Paging System Site Map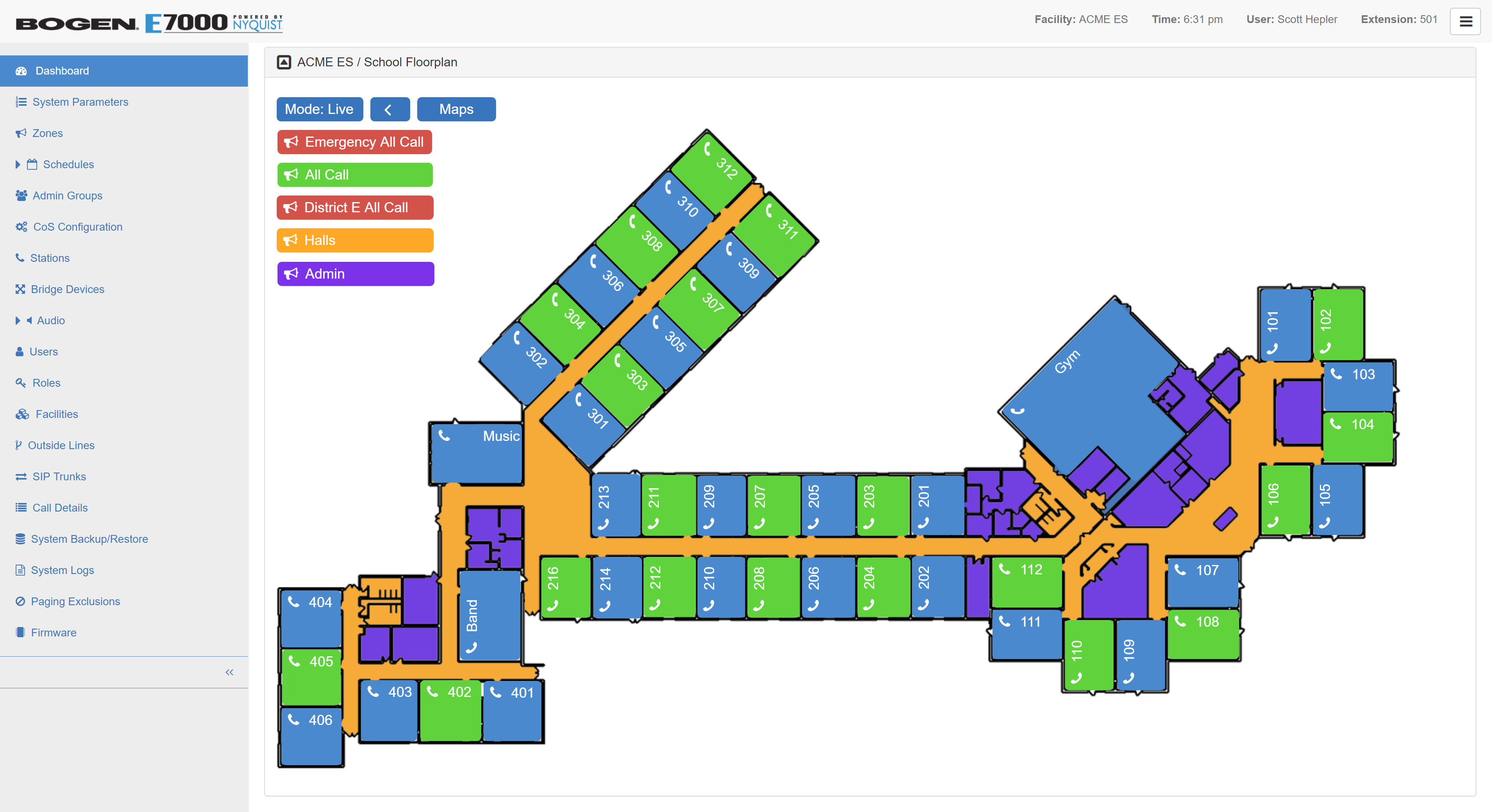 Bogen Nyquist IP Paging System Admin Display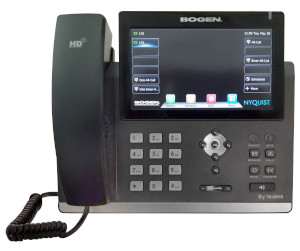 E7000 HIGHLIGHTS
Easy to install, expand and use

Accessible – administrators, technicians, and other key users can access the system 24/7 on web-enabled devices – desktop or mobile – anywhere in the connected world

Scalable – easily add features, stations, and facilities with virtually unlimited scalability

Compatible with legacy intercom infrastructure, including re-use of existing analog speakers, call switches and cabling (with use of the Analog Station Bridge appliance)

SIP device and trunk support (IP-PBX, VoIP phones, and VoIP speakers)

Map-based paging and intercom (new V2.0 feature)


Audio feature rich

Songs / Playlists

Call monitoring and recording capability

Live, pre-recorded and text-to-speech announcement options

(new V2.0 feature)

Networked audio distribution

Available integrations with PBX, security systems, relay control, time systems and third-party PA systems

Creating and managing multiple bell schedules is simple and intuitive
E7000 CAPABILITIES
•  Mobile Accessibility – Instantaneous accessibility to campus and district-wide communications is vital for the safety and security of students and staff. E7000 allows administrators to access the system 24/7 from anywhere in the connected world, even with mobile devices. E7000 can help with features such as call monitoring, call recording and playback, emergency paging with pre-programmed announcements and much more.
•  Security device integration – E7000 interfaces with select third-party security devices such as locks, alarm systems, and sensors via the programmable I/O Controller appliance.
•  State-of-the-art Paging and Intercom – Paging and intercom functions are brought to new levels of sophistication and control, including text-to-speech capability (new V2.0 feature, Fig-2) and a map-based user interface with hierarchical drill-down views (new V2.0 feature, Fig-4). Users no longer need to look up or remember a facility's or station's number in order to communicate with any area or station on the campus.
•  Station & Appliance Supervision – The system automatically alerts administrators via email and dashboard pop-up notice if stations and/or appliances go off-line (new V2.0 feature, Fig-3). 
•  Unmatched Audio Capability – Bogen's 85-year history of audio excellence is evident in the range and quality of audio features.
•  Unlimited Scheduling – Administrators can take full control of scheduling functions, including importing holiday schedules, via E7000's powerful web-based user interface.
•  Convenient and Powerful Configuration and Maintenance – IT and facilities technicians can remotely access the E7000's GUI wherever they are to program, diagnose and control the system.
•  Telephony – Integrated and Elevated – E7000 easily integrates with virtually any VoIP or analog phone system to create a seamless communication platform.
Bogen Multicom and Quantum Paging System
Educational Market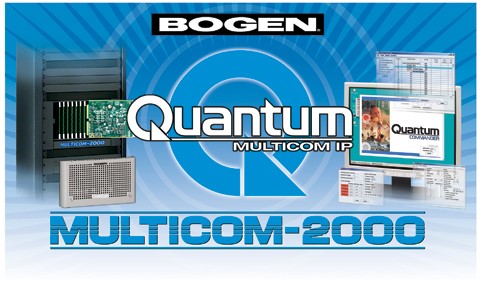 MULTICOM 2000 HIGHLIGHTS
24 to 240 station capacity (each station can have a call device, phone, media control and loudspeaker)

Three station types: administrative, enhanced staff, or staff

Classroom station types 2500 phones or call-in switches

Microprocessor controlled, programmable from administrative station or local computer

Multiple simultaneous private and amplified voice communications

Emergency Link feature reroutes unanswered emergency calls so that there is always an answer

Telephonic functions: hold, conference call, call forward, and call transfer

Administrative telephones have alphanumeric displays with easy-to-use English language menu-driven setup and operation

Built-in program and intercom amplifiers eliminate external equipment

Built-in modular program source interface; selected program is easily distributed to any or all speakers or zones from designated administrative phones

8 administrative paging zones, 240 hard-wired zones, 9 time signaling tones, 8 bell schedules, 1024 programmable events

Dialing to outside 911 Emergency Services

911 alerts to the Administrative telephone
QUANTUM HIGHLIGHTS
Effective communications facility-wide and district-wide

Leverage your network and lower your system costs

Scalable, cost-effective and feature rich

Alert staff and students

Select Zone Paging

Pinpoint person-to-person communications

Facility-wide mass notification

Coordinate facility operations

Station Call Rollover

Direct Dial 911

Interconnect all facilities with Quantum IP communications systems

Make calls directly into classrooms or admin offices from other facilities

Make all-call announcements into facilities from remote sites like Administrative offices

Make district-wide All-Calls to all facilities simultaneously
Biamp Vocia System
Corporate / Public Area Market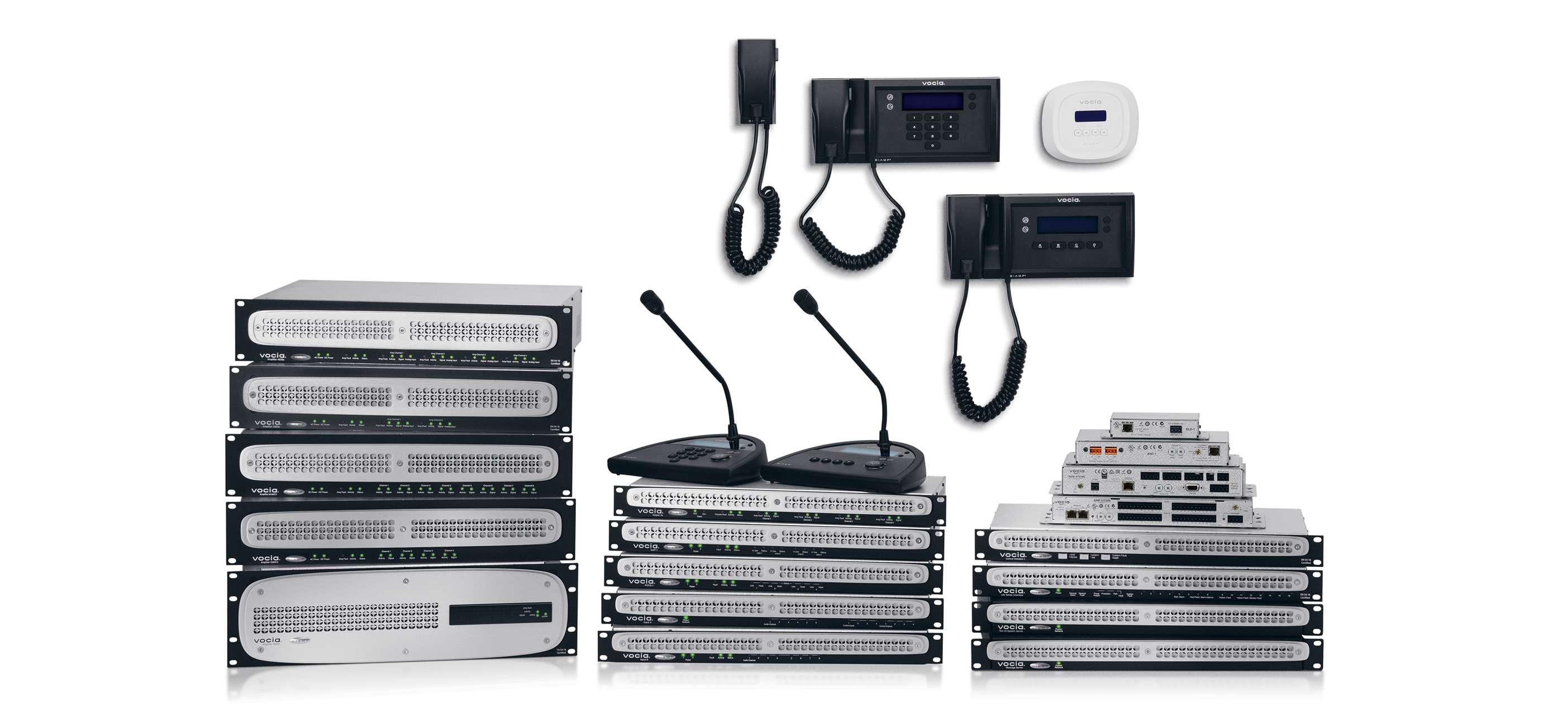 Highly Reliable
Decentralized network

No single point of system failure

Active monitoring and reporting

Compliant with international safety standards

Covered by Biamp Systems' five-year warranty

Worldwide technical support
 Exceptional Audio
Ambient noise reduction for main gathering areas

Superior clarity and intelligibility

Integrated DSP
Scalable
Easy integration with other systems

Can connect to existing fire panels

No new wiring required

Manage all Vocia devices via Ethernet

Meets customers' needs now and well into the future
Flexible
Software-based zone definition allows easy changes or additions

Ability to target pages to a specific audience

Supports CobraNet®, VoIP, POTS, PoE, PBX, and TTS

No special engineering or customization needed
Vocia is a highly reliable solution that provides excellent audio quality while managing all your paging, background music, and emergency communication requirements. It is powerful, scalable, and flexible, and can meet a facility's needs well into the future. Vocia's clarity and intelligibility are just some of the features that make this platform so special. Vocia not only gets messages where they need to go, but also ensures everyone can hear and understand those messages. Vocia was designed to meet the exacting specification and requirements demanded of professional-grade, multipurpose paging systems and provide a futureproof solution