Door Intercom & Telephone Entry Systems
Telephone Entry / Intercom solutions for Today!
The recent advances in technology including IP, PoE, Networking and Mobile, are all a part of a fully integrated security solution.
Telephone Entry and Intercoms a few years ago were only thought of as a convenience device, push a button and talk to someone. Today they are part of a well-thought-out security solution used to protect a wide variety of facilities including schools, office and apartment complexes, industrial parks and warehouses.
Paladin has designed and installed network-based Video Intercom Systems in many large buildings throughout the area. Video intercoms have expanded well beyond basic door entry control or simple communications to become a vital part of an overall security system. Expanded into the network, the devices can work with internal communications and emergency situations.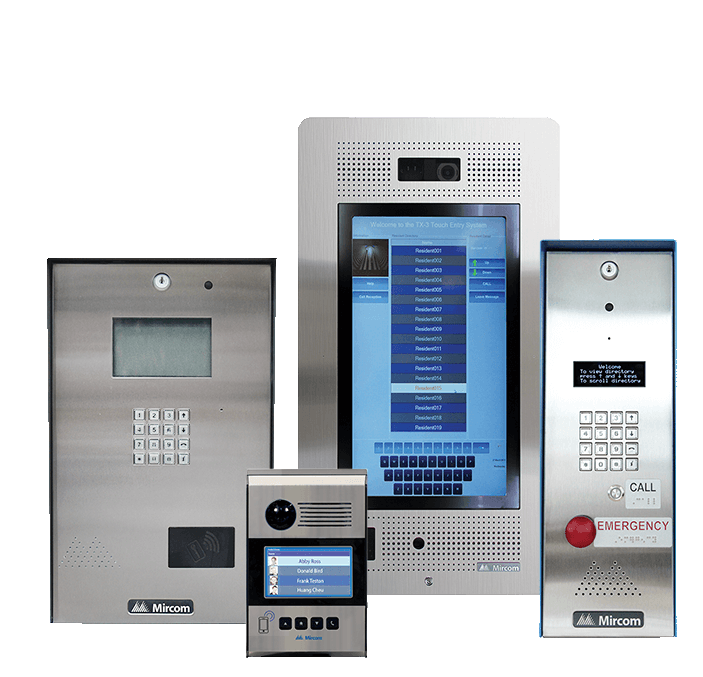 Our integrated systems can offer many features such as: emergency buttons, using video to complement the two-way audio, unlocking doors, opening parking gates or displaying key information. End users may have cards or Bluetooth credentials which can be integrated with your building's Access Control System, along with the Intercom so video and audio can be directed where you need it. Some of our new systems offer the ability to call outside telephone numbers, often eliminating the need and expense of standard telephone lines.
Paladin's network-based Telephone Entry Systems provide an "One Solution Product Line" that integrate Telephone Entry, Access Control, and Gate Entry Systems into one simple solution for our customers. This type of solution provides our clients the ability to add a new resident to each of these systems with one simple software database. In today's world, everyone wants tasks done quickly and efficiently and that is what our solution provides. Paladin understands our client's needs! You can rely on our extensive knowledge in residential applications. We use this extensive knowledge base to guide our clients into a solution that best fit their needs and also addresses the ever changing work force. Managing one easy-to-operate system offers the best solution for our customers' long term satisfaction.
Our Team looks forward to applying our knowledge and expertise for your project.
Telephone Entry Systems
Mircom Traditional Telephone Entry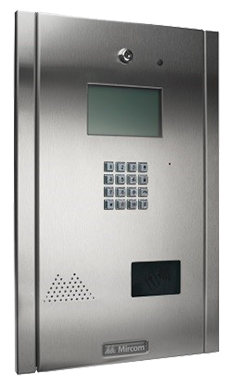 Features:
Availble in Flush Mount or Surface Mount Enclosures
Available in 200 Unit, 1000 Unit and 2000 Name Capacities
Provisions for adding an IP Camera
Constructed of heave guage Stainless Steel
Great for Condominiums, Apartment Buildings, Office Buildings, Gated Communities and Industrial Buildings
Mircom 15" Touchscreen Telephone Entry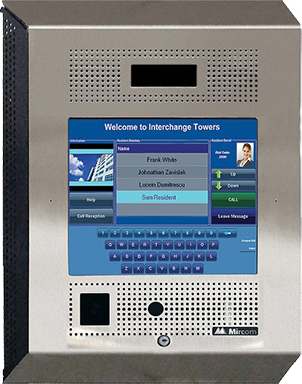 Features:
Availble in Flush Mount or Surface Mount Enclosures
2000 Name Capacity
Built-in HD Web Camera and Access Control Card Reader Options Available
Constructed of heave guage Stainless Steel
Can be fully customized to display residential or commercial building directory listings as well as promotional or site specific information
Three (3) Built-in keyboard layouts and Four (4) configurable themes
VOIP and POTs cabaility
Great for Condominiums, Apartment Buildings, Office Buildings, Gated Communities and Industrial Buildings
Mircom 22" Touchscreen Telephone Entry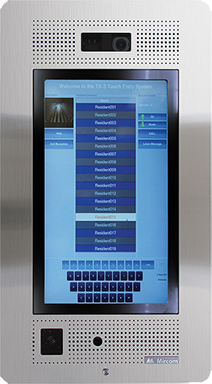 Features:
Availble in Flush Mount or Surface Mount Enclosures
2000 Name Capacity
Built-in HD Web Camera and Access Control Card Reader Options Available
Constructed of heave guage Stainless Steel
Can be fully customized to display residential or commercial building directory listings as well as promotional or site specific information
Three (3) Built-in keyboard layouts and Four (4) configurable themes
VOIP and POTs cabaility
Great for Condominiums, Apartment Buildings, Office Buildings, Gated Communities and Industrial Buildings
Mircom MiEntry Mobile App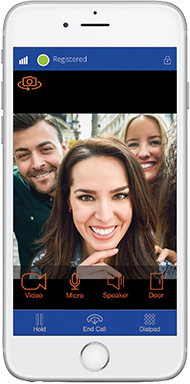 Features:
Allows residents to verify the identity of their guests with live video and audio.
Available for iOS and Android Devices
Compatible with the 15", 22" and Nano Touchscreen Models
Shows all missed and accepted calls
User-friendly interface
Allows the residents to use their smartphones as credentials via BLE (Bluetooth Low Energy) to enter the building *Exclusive to the TX3-Nano (Not Pictured. Call Paladin for more details)
ButteryflyMX 7" IP Intercom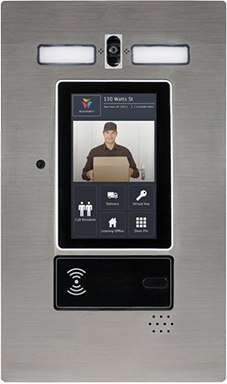 Features:
7" Touchscreen 1024 x 600
IP65 rated for dust, water, and chemical resistance
Two (2) USB 3 ports, One (1) DisplayPort, One (1) Serial port
Vandal resistant
90 degree field of view
Adjustable pan, tilt, and zoom
Dual speakers, dual microphones, Realtek HD audio
26-bit Wiegand format Card Reader
Availble in Flush Mount (pictured) or Surface Mount
Also available in 21" model - CUSTOM MADE
ButteryflyMX 11" IP Intercom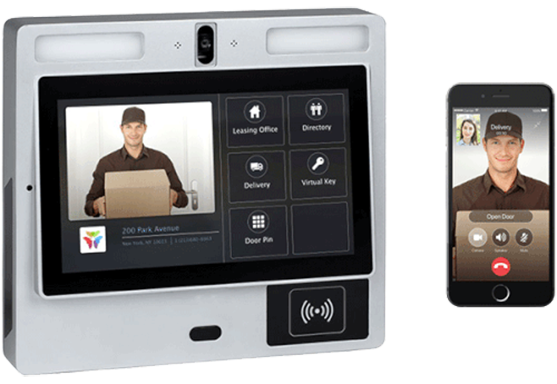 Features:
11" Touchscreen 1920 x 1080
IP65 rated for dust, water, and chemical resistance
Two (2) USB 3 ports, One (1) DisplayPort, One (1) Serial port
Vandal resistant
90 degree field of view
Adjustable pan, tilt, and zoom
Dual speakers, dual microphones, Realtek HD audio
26-bit Wiegand format Card Reader
Availble in Flush Mount or Surface Mount (pictured)
Also available in 21" model - CUSTOM MADE
Door Intercom Systems
Aiphone IX Series 3.5" Video Intercom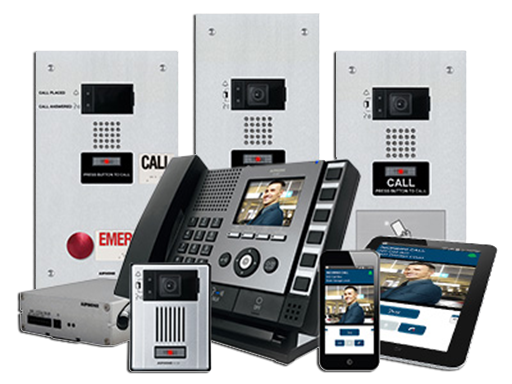 Features:
Multi-Platform IP Video Intercom
5,000+ Door Stations and 5,000+ Master Stations
Flexible and Scaleable to almost any application
Mobile App available for Smartphones and Tablets
Control of Access Control Doors
Aiphone JP Series 7" Video Intercom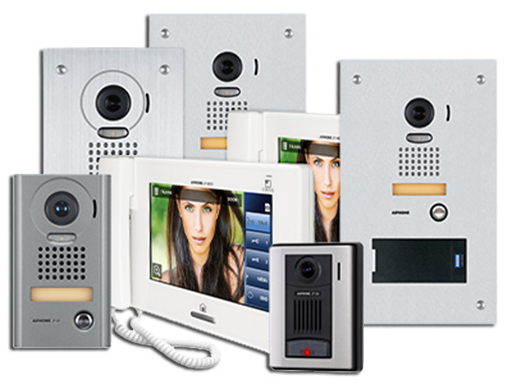 Features:
Up to 4 Door Stations and 8 Master Stations
7" Touchscreen
Handsfree and Handset communication
Picture memory to record images from visitors onto a removeable SD/SDHC Card
Control of Access Control Doors
Axis Network Video Door Station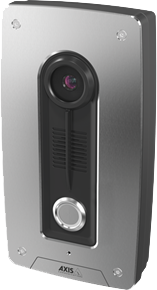 Features:
IP-based 2-Way Communication
Control of Access Control Doors
Integrated HDTV Camera with WDR
PoE powered
SIP support for IP phone integration
Access Video and unlock doors from Smartphone device or a PC
2N Uni IP Intercom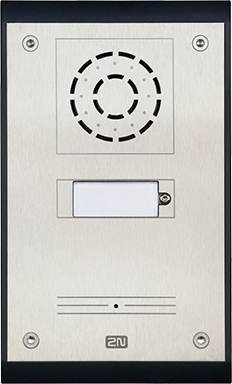 Features:
Easy installation
Easily replace any existing analog intercom
Backlit buttons
Access all of your devices via secured cloud connection
SIP support with no server needed
Available in 1 Button (pictured), 2 Buttons, and 1 Button with Pictograms to inform you about the status of the door intercom: ringing, call in progress or door opening
2N Verso IP Intercom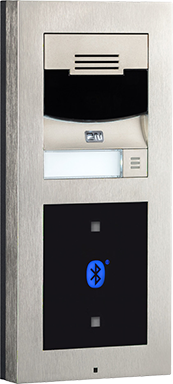 Features:
Bluetooth technology eliminating access codes, entry cards, and key distribution
Access all of your devices via secured cloud connection
Optional camera with night vision
SIP support with no server needed
Allows you to call a mobile phone or tablet over the local network via wi-fi or over cellular data
Available in black or nickle finish
Available in 2 or 3 module versions with options for w/ or w/o camera, fingerprint reader, keypad, Bluetooth, touch keypad and more
2N Force IP Intercom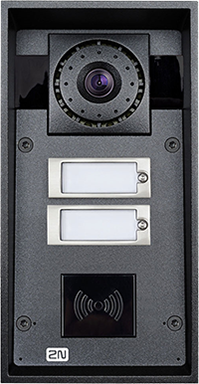 Features:
Toughest IP Intercom on the market according to the IP69K and IK10 standards
Integrates to CCTV & VMS
SIP support with no server needed
Allows you to call a mobile phone or tablet over the local network via wi-fi or over cellular data
Available options include HD Camera, 10w speaker, Card Reader, and Pictograms